News from Europeana
Europeana talks to Killian Downing, archivist at Dublin City University and Kathryn Cassidy, Software Engineer at Digital Repository of Ireland
With public events in 2020 largely cancelled, public engagement events have been difficult. We speak with partners in Ireland who have been working on projects collecting stories from the public during the pandemic.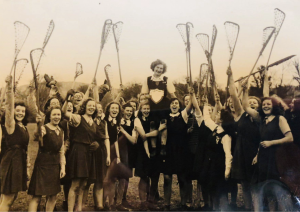 Glengara Park winning the Schools Lacrosse Shield, 1947
For many years, Europeana's collection day events have invited people to share their stories on a range of topics - bringing people together over a day or weekend to celebrate and commemorate their heritage.
In early 2020, two such events were held, with collection days about migration organised in London (with Border Crossings) and Dubrovnik (with State Archive in Dubrovnik). However, since March 2020, events like these have largely been impossible due to restrictions on public events.
Not to be deterred, our partners in Ireland have been running Europeana Sport - Ireland's Stories online since the summer. We speak to Europeana Network Association Members Councillor Killian Downing and Kathryn Cassidy from the Digital Repository of Ireland.
What is Europeana Sport - Ireland's Stories?
Europeana Sport - Ireland's Stories is an online collection campaign, inviting people in Ireland to share their stories about sport. With the pandemic this year, there was no possibility of doing face-to-face physical events, so after some eager discussions in February 2020, a group of passionate individuals decided to pole-vault online.
We launched at the end of May, bringing together a number of cultural organisations from across Ireland who were interested in collecting and sharing their sporting and cultural heritage.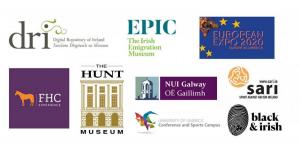 We began with each partner sending out press releases within a coordinated social media campaign. As the stories come in, we showcase them on social media, keeping people interested in the campaign. The campaign has also been highlighted by local radio in Ireland as well as news media organisations including the Irish Examiner.
We think this also works well as a pilot for the Europeana Sport online collection activities - our partner EPIC The Irish Emigration Museum is a partner in that project.
What kinds of stories have been shared?
There is a huge variety in the stories collected so far. There are stories about many different sports - pole vaulting, Gaelic football, surfing, showjumping, the Special Olympics, hockey, kendo, running, football, horse riding, kung fu and tennis.
There are stories from prominent sports people as well as members of the public - we were not just interested in key sporting achievements, but also about people's experience in a wide range of sporting participation and experience. One story contributed by Dublin runner, Mary Egan, is about her recovery from breast cancer thanks to the solidarity and support of Porterstown Parkrun and the Porterstown Panthers running communities and how important this was for her well-being and mental health.
There are stories from the past - such as the development of surfing in Ireland more than 70 years ago, the perils of pole-vaulting with bamboo in the 1930s or how people started practising kendo in Ireland - as well as stories from the present day.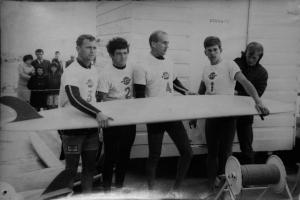 First Irish National Surfing Championships, Tramore Co. Waterford, 1967
What did you learn?
Just putting the word out on social media and inviting people to share a story didn't seem to work as well as a more personal approach. It was really important that there were sporting organisations amongst our partners who had existing networks of sports people which we were able to reach.
We reached out to national governing bodies for different sports, who were already having a very busy year but who cooperated in different ways. For example, Surfing Ireland took on a role in our project finding archive photographs from the early days of surfing in Ireland.
We thought it was important to engage and reach out to minority voices and marginalised groups so their sporting stories and experiences would be part of the campaign. We also received feedback supporting the need for this approach to ensure Ireland's Stories was pro-actively working to be better representative of diverse voices and experiences across Ireland. For example, we've been collecting and working with Sport Against Racism in Ireland, Black and Irish, Irish Homeless Street Leagues and the Sanctuary Runners Ireland.
We also found it important to talk about our experiences and lessons learnt at the Europeana Lunch Café on Europe's Sport Heritage and Europeana Sport webinar: Engaging Audiences with Sport and Culture.
How has the pandemic shaped your activities?
All of these stories have connected people together around their love for sport, exercise, friendship, community and wellbeing. It would be brilliant to continue this type of digital story collecting and support Europeana as a home for our collective memory and shared experiences. There's clearly a huge appetite for it during COVID-19, as many simply want to remember and share significant moments with others.
Much of our communication has been about asking people to share stories. We've been encouraged by volunteers in sport organisations who are looking to digitise their sports memorabilia, encouraging others to participate in the campaign.
Elsewhere in Ireland, as part of Europeana's Europe at Work season, the Hunt Museum in Limerick, hosted an international symposium and collection day called Ardnacrusha Memories to highlight how the Shannon Hydro-Electric Scheme played a pivotal role in the social, economic and industrial development of Ireland in the 20th century.
Maybe with people cocooning due to the lockdown, this has been an opportunity to connect with them in their community to share their stories. Ireland's Stories is continuing to collect individual sporting stories and also engage with local communities, libraries, archives, museums, galleries, and other types of cultural heritage organisations to collect and share sporting heritage and experiences.
Find out more about Europeana Sport here.